My thriller for the year isn't a book but a film: a thought provoking roller coaster ride through 'The Troubles' in Northern Ireland.
Set at the beginning of 'The Troubles', the film 71 is a brilliant and disturbing reminder of the very dirty war fought in our own country as recently as twenty years ago.
It is the story of Derbyshire lad, Gary [played by Jack O'Connell], a refugee from a children's home who has joined the Parachute Regiment in search of a different sort of institutional security. Within a few hours of arriving in Northern Ireland his unit is sent into the terraced streets of West Belfast to search for weapons.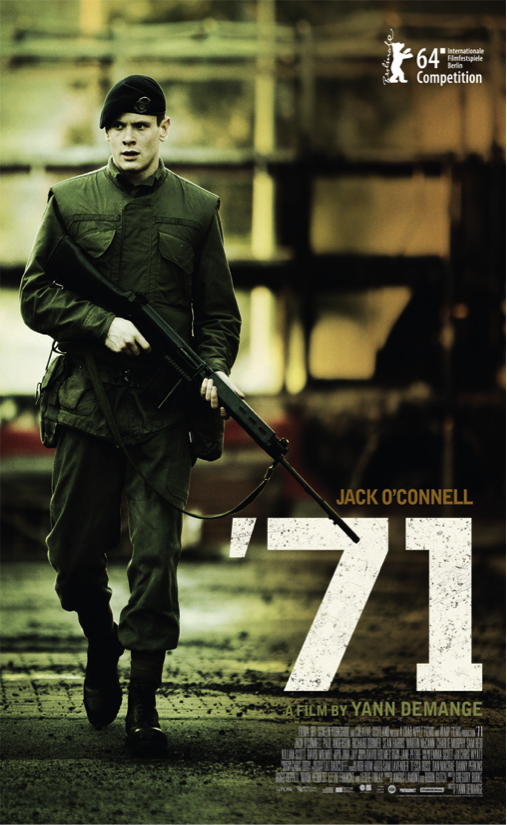 Once welcomed as a force for law and order, the Catholic residents of the area now view British soldiers as the enemy and defenders of the Protestant ascendancy. A riot ensues and in the confusion Gary is detached from his unit and forced to run for his life. IRA gunmen pursue him along back alleys and through yards hung with laundry until he finds somewhere to hide until nightfall. But the streets of the Lower Falls are even more confusing and terrifying at night. He run through a half light world of bonfires and burning buses; a world without a moral centre, in which compassion for a soldier will be punished with a bullet; and the British forces of law and order run IRA informers and assist Loyalist paramilitary thugs to carry out acts of sectarian terror.
71 is set in the worst of times. Between 1970 and 1972 five hundred people were killed, more than half of them civilians, and yet 'The Troubles' rumbled on for another 25 years. Director, Yann Demange, has made a cracking edge of the seat chase thriller, clever and evocative – and it couldn't be more timely. As Westminster prepares to rush through more anti terrorist laws, 71 is a reminder that you cannot legislate for hearts and minds and that defeating terror is about reaching out to communities, too.