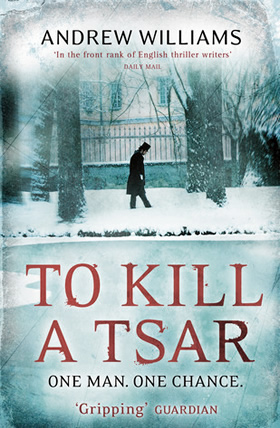 Buy to Kill a Tsar
---
The Story
Palace Square, St Petersburg, 1879. A shot rings out. As Cossacks tackle the assassin to the ground, no one notices a beautiful young woman slip away.
Russia is alive with revolution and Tsar Alexander II's secret police will stop at nothing to unmask the conspirators. For Dr Frederick Hadfield, favourite of the Anglo-Russian gentry, these are dangerous times. Drawn into a desperate undercover game of plot and counterplot, he risks all in a perilous double life.
From glittering ballrooms to the cruel cells of the House of Preliminary Detention, from the grandeur of the British Embassy to the underground presses of the young revolutionaries, To Kill a Tsar is a gripping thriller set in a world of brutal contrasts in which treachery is everywhere and nothing is what it seems.
Review
"A superb evocation of spies, radical passions and revolution."
Daily Mail
---
Short listed The Scott Prize for Historical Fiction 2011
Short listed for CWA Ellis Peters Historical Award 2010
Short listed for the Crimefest Award 2010
"Had me biting my fingernails in suspense."
Andrew Roberts, Daily Telegraph
"Bravura story telling… Andrew Williams is the real thing: a writer who can marry popular genres to the sophisticated treatments of political arguments."
Independent
"A meaty affair which pulls off the trick of gripping the reader and bringing a complicated, alien world to life."
Guardian
"Elegantly serpentine plotting and finely etched characters confirm Williams's place in the front rank of the new English thriller writers."
Daily Mail
"A very accomplished novel which can be enjoyed as a gripping and moving thriller. Yet it is more than that, for it invites us to reflect on questions of morality, and on that age-old question of when, if ever, violent means may be held to justify worthy ends, whether, indeed, such ends can ever be achieved if the means are inescapably criminal."
Allan Massie, Scotsman
"An appealing blend of Doctor Zhivago, Conrad's Under Western Eyes and Boris Akunin's 19th century crime fiction. His ability to bring a past world to life matches Furst's."
Sunday Times